TAG PIPE BEVELLING MACHINE PREP 2
RANGE: 23 - 42mm i/d  /  0.9 - 1.5" i/d
(optional from 12.5mm i/d  /  0.5" i/d)
Functions: External bevelling / internal bevelling / elbow and fittings bevelling / facing, counter-boring / weld removal / J-prepping and facing of tube plate
Materials: Any kind of steel and exotic alloy
Power: Pneumatic, electric or battery (110v or 220v)
The smallest in our range of i/d locking, direct in-line feed end prep machines. The PREP 2 is small, light weight, yet powerful, in electric, battery (110v or 220v) or pneumatic drive form. A 4-jaw tool holder (chuck) allows use of up to 4 form tools to enable weld preparation of thin wall tube, or heavy wall pipe.
Simultaneous external and internal bevelling and facing of tubes is simple, ideal for accurate repetitive work. It's size, power, and functionality, make it extremely popular in high volume heat exchanger work, tube facing, weld removal, and J-prepping of the tube plate. Also used extensively on power station shutdowns for boiler panel bevels.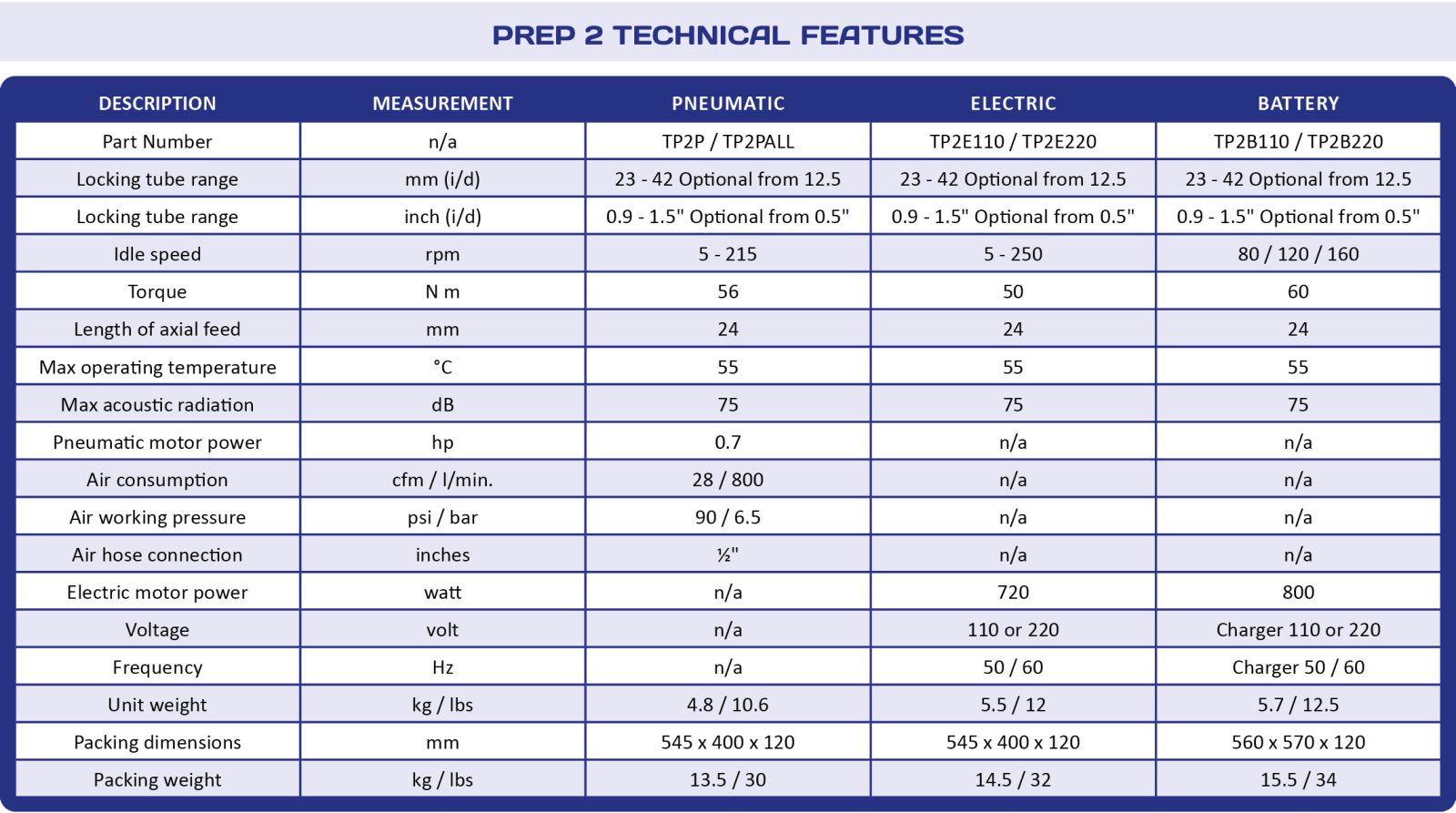 Our group policy is one of continuous improvement. Products and data tables are subject to change or vary from those illustrated.
• All units are supplied complete with all gripping segments to cover the full range of the machine. Service tools, drawings, instruction manual and warranty certificate are also supplied as standard.
• Each machine is supplied with a protective custom built metal box.
• Pneumatic machine must be used with filter lubricator and oil - use without will void warranty.