TAG Aluminium Light Weight Split Frame Clamshell Cutting and Bevelling Machine
Range: 1" - 54" (25mm - 1372mm)
The TAG Split Frame Clamshell range of portable cold pipe cutting and bevelling machines are designed for ease of use, even in difficult situations.
Thanks to their low profile frame they are the perfect machines for use when access to the pipe is restricted.
The TAG range of Cut and Prep Split Frame Clamshells are available with pneumatic, servo electric motors and hydraulic motors, and will cover a range from 1" to 54" o/d (6" range per ring).
Larger sizes are available on request. Cutting and bevelling can be performed simultaneously; any type of weld prep can be achieved including compound angles and "J-preps".
Download our Aluminium Light Weight Split Frame Clamshell Catalogue Here

TAG Aluminium Split Frame Clamshells
TAG's new range of Split Frame Clamshells are essentially portable lathes.
Offering the versatility to cut and bevel (simultaneously if required), face, counterbore and O/D machine pipes (and vessels) of almost any diameter.
A light weight aluminium body, encases a steel inner ring gear running on solid bearings, ensuring manageability, yet extreme strength and durability.
Coupled with wide, hardened clamping feet, with easy read rule marks, enable rapid, repeatable concentric setup, even on out of round pipes and joints.
A range of tooling, power units, and accessories allow you to tailor your machine to your particular job.
Features and Advantages
11 models cover a range from 1" (25.4 mm) to 48" (1219.2 mm) O/D
Pneumatic, Hydraulic, standard electric and NC SERVO Electric Drive options provide increased versatility
Adjustable heavy duty bearings, combined with easy access maintenance points allow inspection and adjustment
Clamping Feet are quickly and easily adjusted via a flush Hex head through the outer ring. Feet feature easy read measure marks for rapid setup and adjustment
TAG Split Frame Clamshells accept a wide range of accessories to increase performance and expand machine capabilities
Unique 'TAG transmission' tool slides with changeable gears for adjustable Radial tool feed
Quick Split Frame Design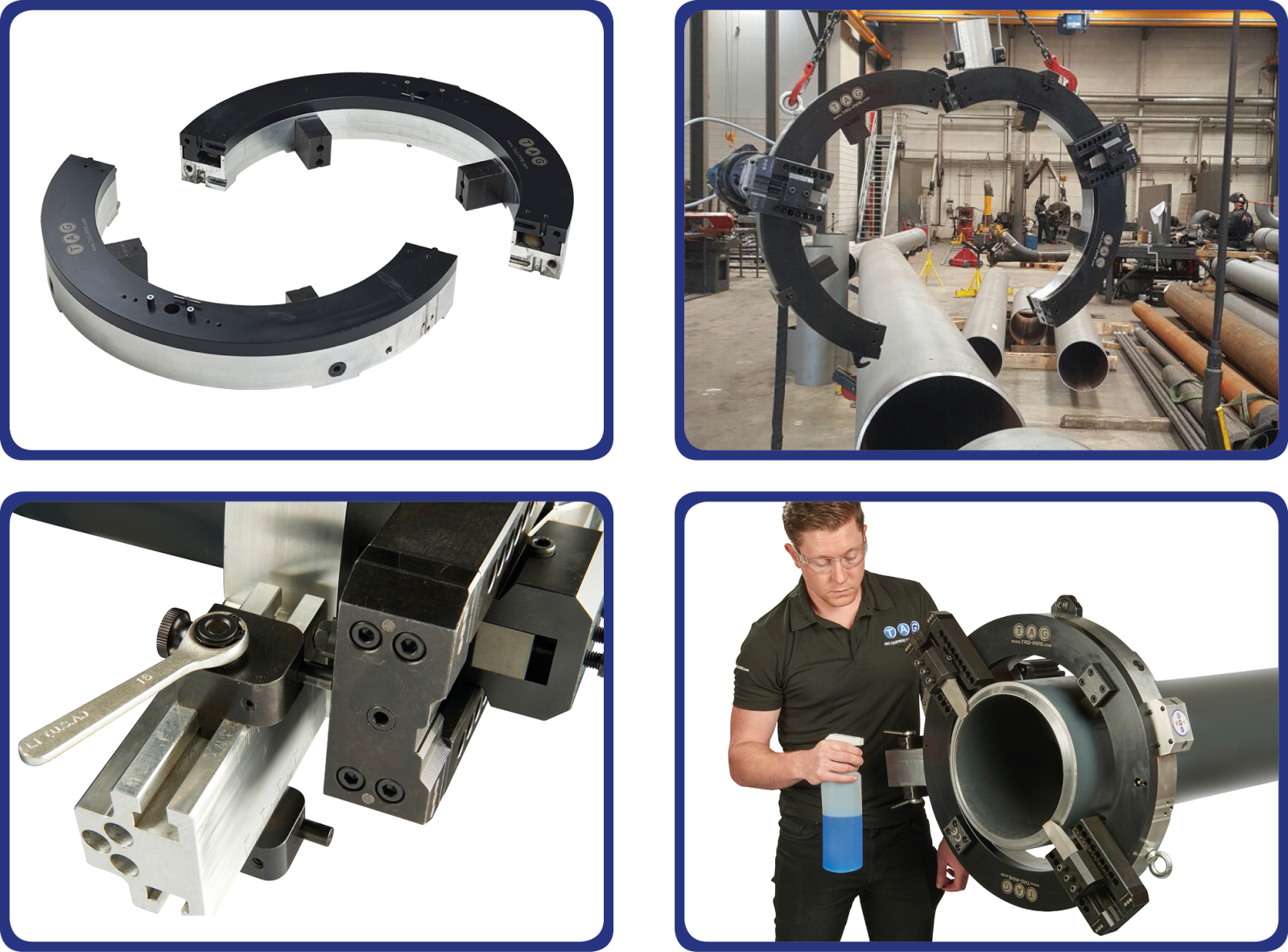 Examples of jobs done with TAG Split Frame Clamshells